Main content starts here, tab to start navigating
About
Lek's Krua Thai started with a dream. Born and raised in Thailand, Lek learned to cook local cuisine at a young age and developed a passion for cooking. Through the years she honed her skills and received additional training from well known Thai chefs.
Lek always wanted to start a business. And now, with Lek's Krua Thai she is finally able to make her dream of bringing her fantastic creations from her table to yours come true.
Slide 1 of 5
Slide 2 of 5
Slide 3 of 5
Slide 4 of 5
Slide 5 of 5
Welcome to Lek's Krua Thai where authentic Thai food is made from the heart. Owner and Chef Rabiab "Lek" Hartle welcomes you to her Krua (meaning "kitchen" in English) with a wonderful balance of sweet, salty, and spicy Thai dishes expertly crafted using only the freshest ingredients. Whether preparing food for small or large gatherings or serving as a personal chef for special occasions, Lek treats her diners to an authentic Thai experience, offering options for a wide variety of tastes from all regions of Thailand.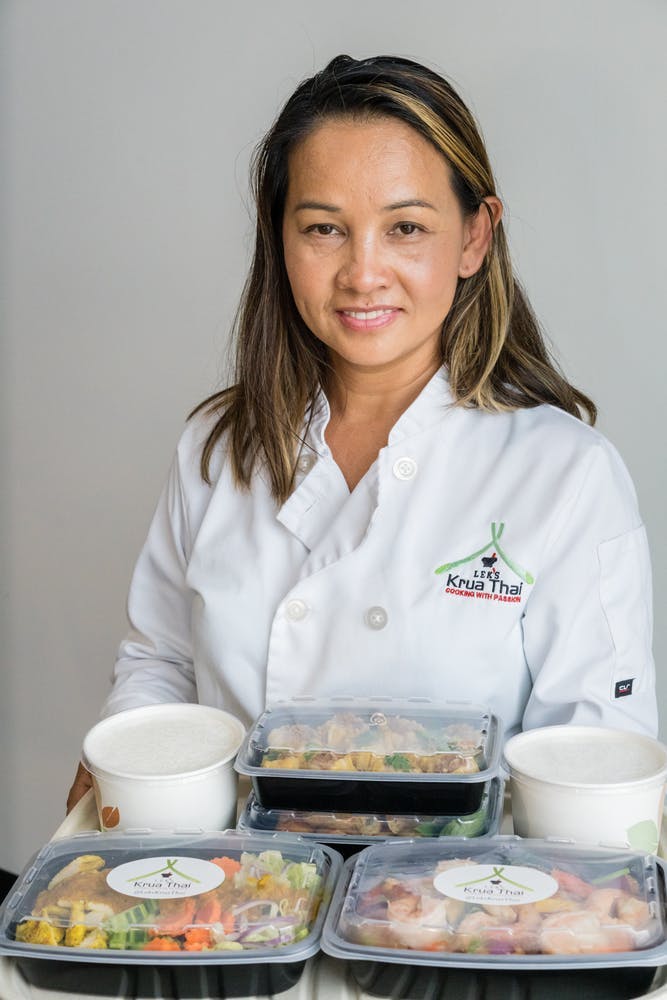 Lek's Krua Thai uses no artificial food additives for flavor, but rather relies on traditional spices, herbs, and fresh ingredients. Using the expertise she has gained from a lifetime of Thai cooking, Lek creates a well-balanced meal rich in both taste and texture to bring you heartfelt, high quality Thai cuisine that brings the taste of her Thai kitchen in your own "krua".